Marketing to developers is marketing on hard mode. Developers are notoriously skeptical and bad marketing will turn them into proactive detractors.But successful developer marketing can be transformative. Developers are frequently software buyers, decision-makers, or advisors. Even if someone else makes the final call, the developers get a vote and a veto.Content is a key part of any developer marketing program. We have plenty of tutorials and product updates. They're essential, yes, but expected — and they rarely help you differentiate.What's climbing up the ranks in HackerNews? What are developers sharing in Slack? What do developers bookmark, highlight, and reference?Developers have a notorious allergy to bad content, which has made many companies hesitant. But that means the opportunity for you to build and capture influence is wide open.By combining strong opinions with technical acumen, you can create content that earns attention, trust, influence, and eventually, dollars.Interested? Email me at nick@nickmoore.me.If you want to follow my work, you can connect on LinkedIn. I'm peeling back the layers on how to create high-quality content every week. I've also written for HeavyBit and the Developer Marketing Alliance.
Services
Technical essays
I write in-depth, nuanced, research-backed articles that make discussion-worthy arguments and provide thought-provoking ideas. Show why your company is one developers should trust and follow.Example: Sequence diagrams, the only good thing UML brought to software development for MermaidChart. MermaidChart provides a documentation for developers but is trying to stand out in an established market. This essay provides a nuanced history of UML and makes the argument that sequence diagrams was the industry's best takeaway from this failed movement. On HackerNews, the article generated over 600 points and over 300 comments, resulting in tens of thousands of visits to the website.
Search optimized content
I provide search optimized content that balances search intent, technical accuracy, and brand-building narratives. The best search content appeals to Google, draws the reader in, and captures traffic, links, and shares.Example: Explaining the Backlash to the SSO Tax for Kolide. Kolide builds an authentication and security product, so single-sign on (SSO) is a relevant topic to its product and its audience. We targeted the keyword "SSO tax" because of its search volume and because of the appeal the controversy has with developers. Supported by nuanced research, a compelling perspective, and the fulfillment of search intent, the article now ranks in the top three SERP positions for its keyword.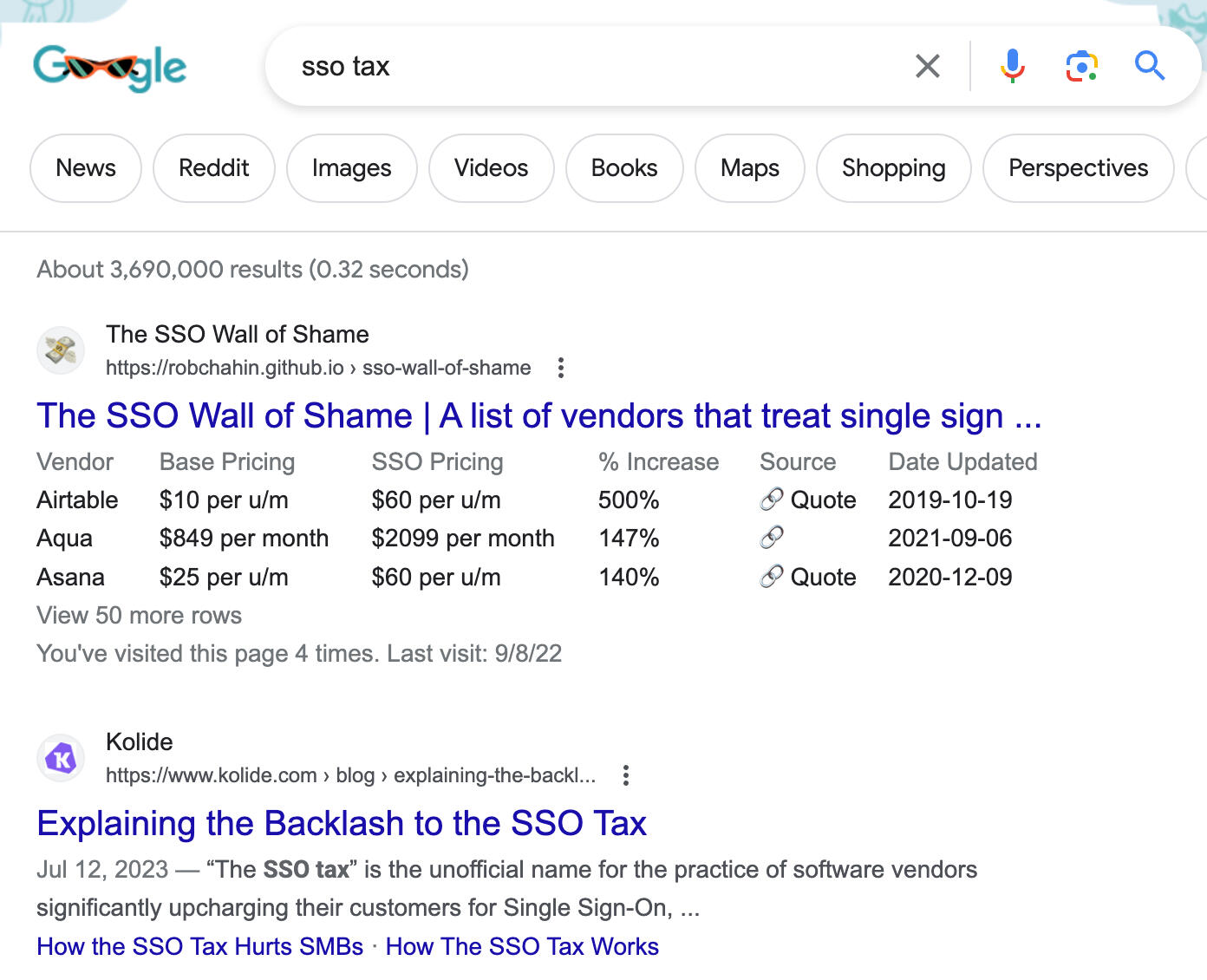 Co-written and ghostwritten engineering stories
I interview engineers and work alongside them to articulate and explain their work in a way that appeals to other engineers. There's no one more appealing to your developer audience than the developers at your company, but they likely have little time to write. I meet them where they're at: I can interview and ghostwrite, discuss and co-write, and turn their notes or drafts into polished pieces.Example: I gambled against React and lost (and I don't regret a thing) for Authentik. Authentik is building an open core authentication product that's taking on big players like Microsoft and Okta. To appeal to engineers, I interviewed Authentik's CTO (a developer turned executive who still codes every day) and wrote a history of the company by way of a fateful technical decision.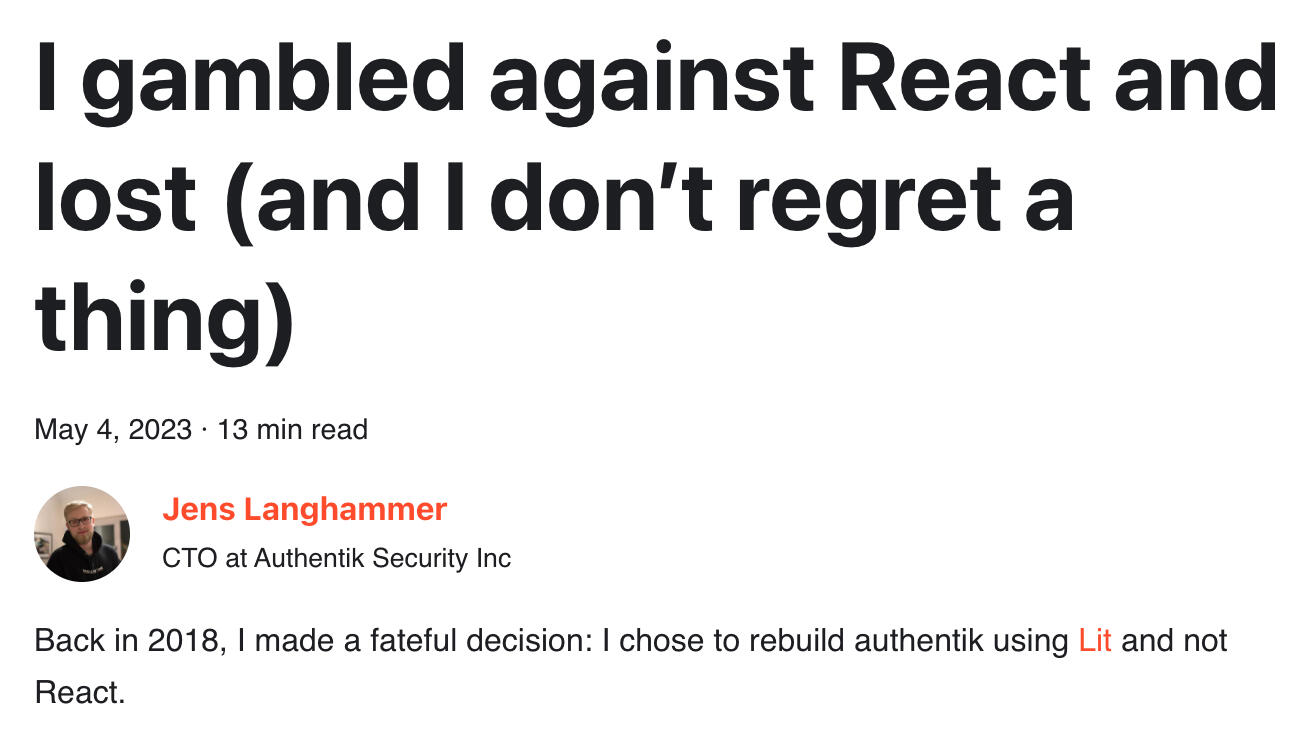 As seen in Heavybit, Developer Marketing Alliance, and Developer Markepear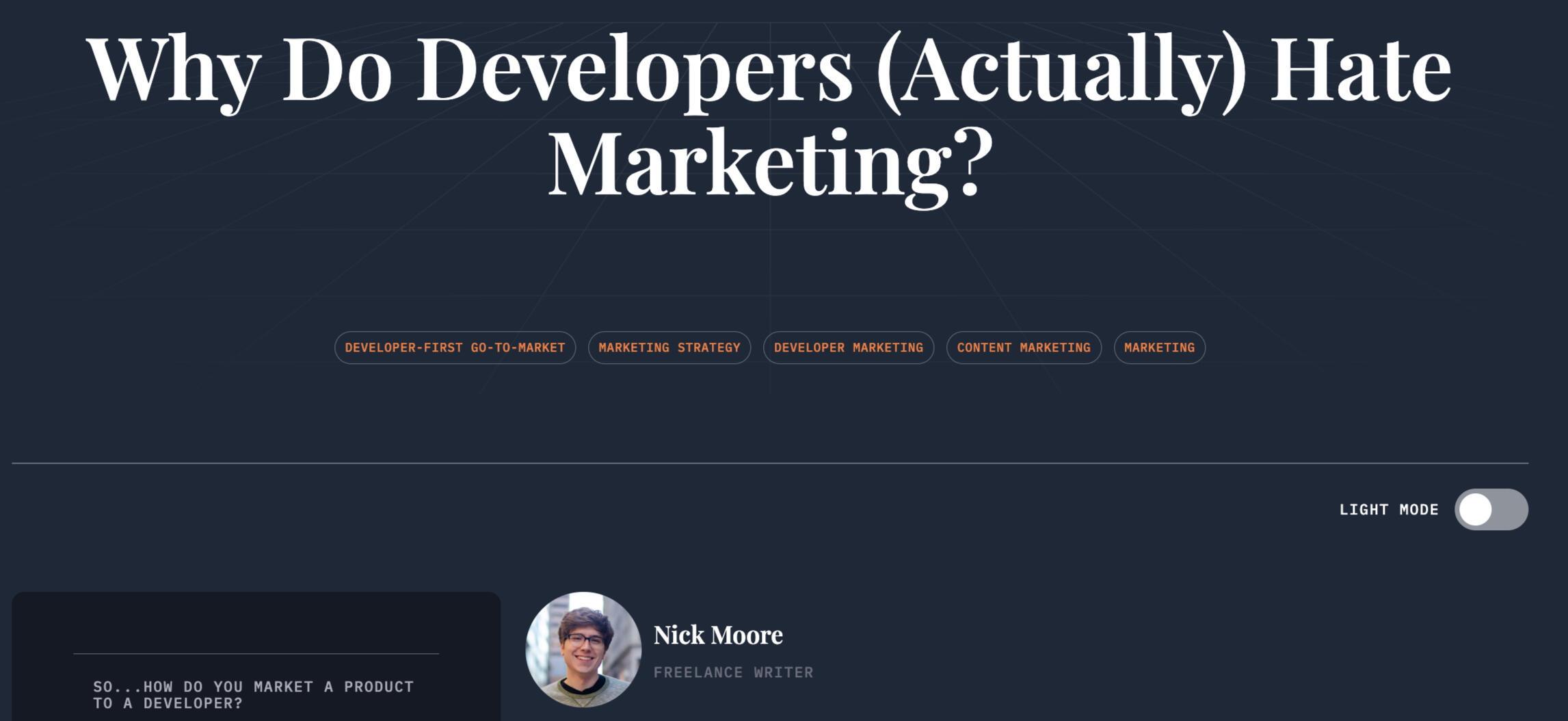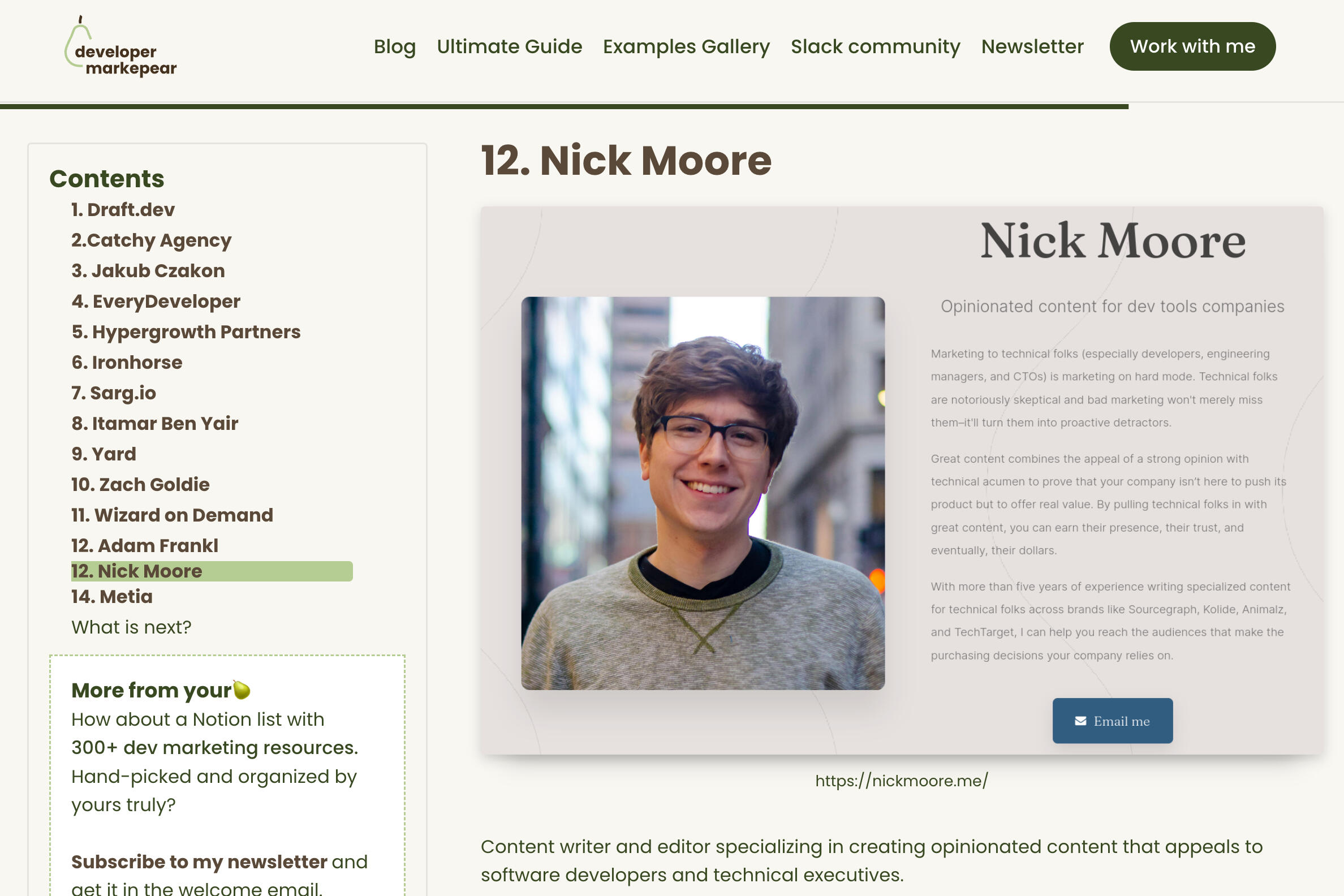 Testimonials
"I've worked with Nick in several capacities over the past five years. First, we were colleagues at Animalz, and later he was my first pick of freelancers at my current role. Over that time he's impressed me as one of the most consistent and thoughtful writers I've ever encountered.I trust Nick with challenging, research-intensive, technical content, and he delivers original insights wrapped in compelling prose. In an industry where a lot of people try and sell you cheap SEO gimmicks, Nick's work succeeds because of its quality. He's strategic, but he doesn't take shortcuts, and he gets results--his pieces are some of our most successful to date across both organic and social channels.As if that weren't enough, Nick is a complete pleasure to work with. He sticks to deadlines, accepts feedback without ego, and goes above and beyond to make a piece successful even after it's written. For instance, an anonymous HackerNews post from him, which he wrote without prompting, drove one of our pieces to viral success. In short, Nick is proof that content marketing can deliver both business results and value to readers, and I can't recommend him highly enough." - Elaine Atwell, Senior Editor of Content Marketing at Kolide"If you're looking for someone who can make technical subject matter approachable and conversational, without diluting the details, Nick is your person. I had the absolute delight of managing Nick while he was on the technical content marketing team at Animalz and watched him thrive working with founders and SMEs to create and measure content strategies for technical audiences.He's incredibly strong at honing in on what makes a brand, product, or community unique, as well as working with stakeholders to capture their unique voices and transform their thoughts into convincing thought leadership. 10/10 would work with Nick again whenever tackling technical subject matter and a discerning audience." - Allie Beazell, Director of Developer Marketing at Census"Nick is the rare writer who can marry in-depth of technical knowledge and startup experience with compelling, engaging prose. As his manager I confidently put him in charge of demanding accounts, and he never failed to deliver outstanding results. Nick is particularly skilled at research and interviewing, which lays the foundation for his authoritative writing. He is communicative and conscientious -- a strong asset to any content operation." - Meredith Kucherov, Senior Content Strategist at Revinate"Nick worked closely with my team to create compelling customer stories. Nick was involved throughout the entire creative process and played a key role in developing a new format for our customer stories (that we still use today). Nick is a strong technical writer and a greater person to work with." - Andy Schumeister, Director of Product Marketing at Sourcegraph